Fixstars is engaged in quality management conforming to "ISO 9001: 2015" and has received certification.
We aim to further improve customer satisfaction by providing products of the highest standards.
Quality Policy
With our basic philosophy and mission goals, we can high employee morale and customer success while contributing to the improvement of happiness around the world through total solutions of multicore technology.
We will pursue high performance and reliability by establishing a brand through technological development and global expansion in order to maintain the industry leading edge in multicore technology with the products and technologies our company offers.
Certification Scope
Applicable standard

ISO9001:2015

Registration number

4031

Registration organization

Fixstars Corporation

Location

Head office (Tamachi Station Tower N 28th Floor 3-1-1 Shibaura, Minato-ku, Tokyo 108-0023)

Scope of registration

Entrusted development of information systems, including design, software development, as well as provision of hardware products

Design, development and provision of information systems

Design, development and provision of In-house developed cloud service

Registration date

March 26, 2009

Change date

April 7, 2022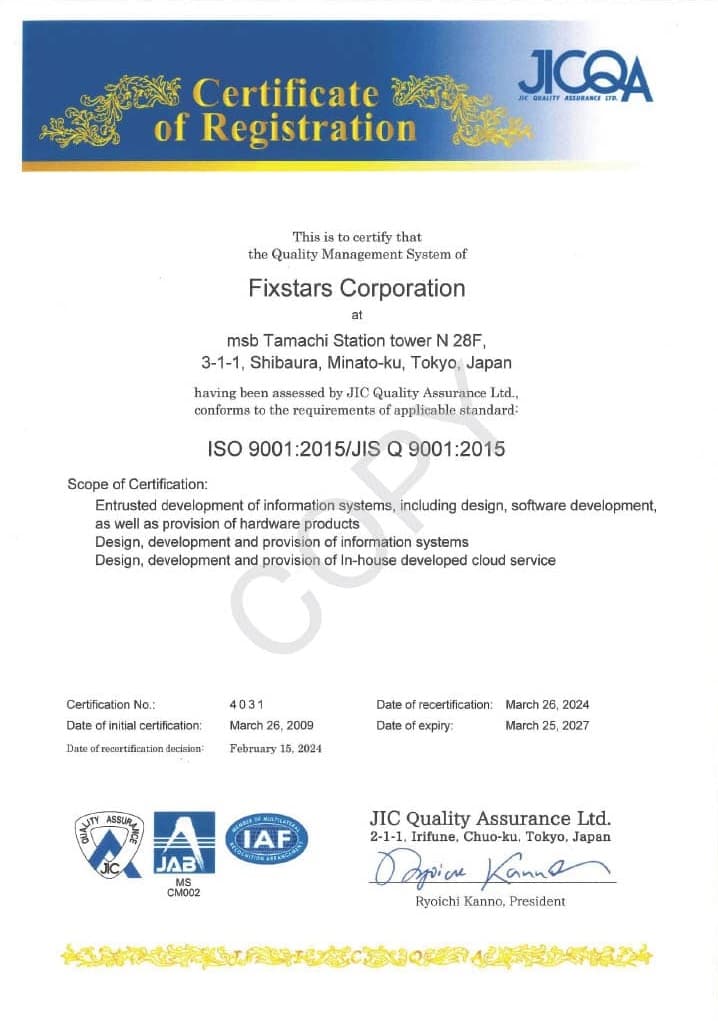 We have started operations at our new headquarters on April 21, 2021(JST). Please refer to here for details. (Japanese page only)